What can Cardrecoverypro do?
Digital Camera Photo Recovery;
Memory Card Recovery;
Digital Photo Recovery;
Video File Recovery;
Audio File Recovery;
Recover Photos from Formatted Card or Hard drive.
About MMC Card:
The MultiMediaCard (MMC) is a flash memory memory card standard. MMC is about the size of a postage stamp: 24 mm × 32 mm × 1.4 mm. It has been superseded by the Secure Digital (SD) card, but can still be used in most devices that support SD cards. Typically, an MMC is used as a storage medium for a portable device, in a form that can easily be removed for access by a PC. For example, a digital camera would use an MMC for storing image files. With an MMC reader (typically a small box that connects via USB or some other serial connection, although some can be found integrated into the computer itself), a user could copy the pictures taken with the digital camera off to his or her computer. Modern computers, both laptops and desktops, often have SD slots, which can additionally read MMCs if the operating system drivers support them. They are used in almost every context in which memory cards are used. Since the introduction of Secure Digital card few companies build MMC slots into their devices but the slightly thinner, pin-compatible MMCs can be used in almost any device that supports SD cards if the software/firmware on the device supports them.
Then if your MMC card is corrupted or broken or the data is missing, what is your measure to resolve this tough problem?
How to Recover Data of MMC Card?
That is not a difficult thing for you though if you have Cardrecoverypro. As easy as 1-2-3! NO Experience or Computer Skills Required!
Step 1: Run Cardrecoverypro. Then click [Start Scan] button.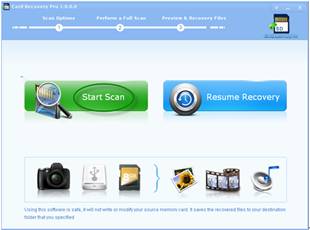 Step 2: Select the drive, file types and specify the destination folder, then click [Next].
Step 3: The scanning process will start. After scanning, list of file types will be displayed in the left pane. You will see thumbnails when you click on the file type. You can either recover all or selected files by ticking the small check box under each file or [Select All] option. Then click [Recover] button.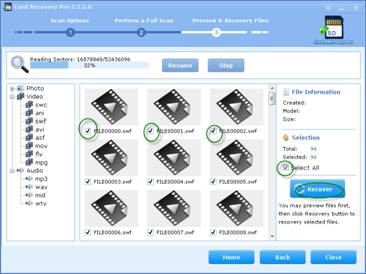 Step4: There will be a message telling you the number of files recovered. Click [OK] or [Open] button, which can lead you to the destination folder you specified to get the recovered files.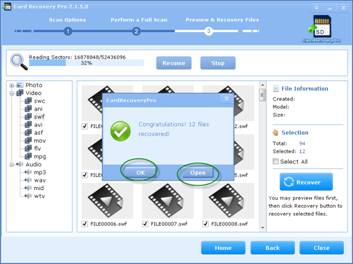 It is good to see than to hear. So just to see here: Cardrecoverypro.