An XD card, meaning of Extreme Digital, is one of the famous memory storage formats that are used widely around the world. While nowadays we may be more familiar with SD card, another format used in digital cameras and other devices, XD is still unforgettable for its contribution to the development of digital image storing.
Same as other memory formats; this card can be scratched or broken when it is not properly used. When such cases happen, it may stop transferring data. Sometimes, you may see I/O error when you try to move the files to computer. Some users will feel confused when encountering this error, and then try again and again, removing the card, and then inserting it and attempting to open it. Wrong! This will only add to the scratched situation and make the case worse.
You may ask, how about the data in the card? Shall I just give up them?
My answer, of course, is no. How can we just abandon the photos taken with family members and friends? However, we are only common computer users, and know little about computers and digital knowledge, how do we suppose to know what happen and what to do to get things back to normal?
The smartest way to fix this situation is to get a professional XD recovery tool to fix the issue. Since the card is scratched, some data in it are already broken and the structure is destroyed. You cannot open the folder or images in the card. There is nothing you can do except looking for help from recovery software which will scan and take out the images from your XD card and retrieve them back to your hard drive.  
Step 1: download and install the XD card recovery software on your computer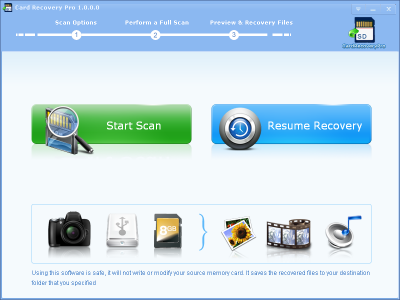 Step 2: run a scan with the program and preview the files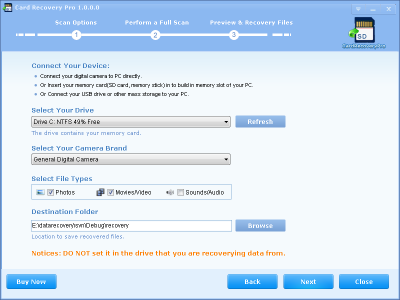 Step 3: Select the files you want to recover, or just Select All.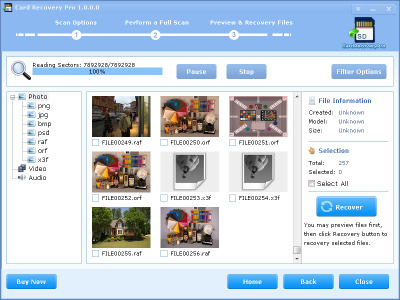 Step 4: Click Recover button to recover the chosen files.