Fujifilm is the name of a Japanese company that develops, produces and sells imaging and photofinishing equipments. It is one of the world's largest imaging product manufacturers. It's products have been sold all over the world.
The DCIM means digital camerad image in the fijifilm camera. When we take photographs with a camera, the images will be stored in a folder called DCIM. If the DCIM folder is deleted mistakenly from the camera memory card, you will have big trouble in getting it back.
The easiest and fast solution for this issue is to get a professional recovery tool to recover these deleted photos from the memory card. The fijifilm DCIM folder, after deleted, will be broken into numerous scattered fragments which cannot be reunited manually. Howeverm with a clever DCIM recovery software, we can easily collect these fragments and reunit them into the original images.
Here is the preview of the photos found by the recovery software – Cardrecoverypro.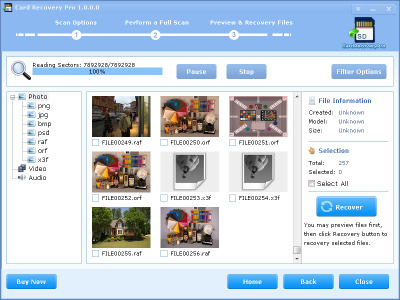 You can get Cardrecoverypro to retrieve the deleted photos in Fujifilm DCIM folder on this site.