The fast development of digital cameras has made it possible and convenient for people to record their life in movie clips. No matter they are in parties, shows or other social activities, they can use recorder or digital cameras to take a video and save it in the memory card that is equiped in the device.
However, these video or movie clips are easily gone if you mistakenly press delete button on the camera or simple format your memory card. While movie clips are previous memory of an incredible or commemorable moment, they should be kept safely so you can enjoy them with your beloved ones to recall the past.
If you have deleted your movie clips from your digital camera or its memory card, you can recover them by a simple-to-use recovery software- Cardrecoverypro.
To perform a recovery using CardRecoveryPro, the procedure is quite simple:
download CardRecoveryPro to your computer

Install the setup file

Run a scan with CardRecoveryPro

Choose the media files that you want to recover, click recover button to bring them back to your system.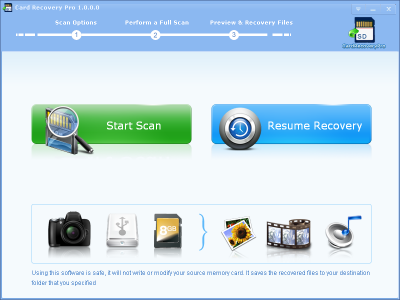 The trial version of CardRecoveryPro can be reached on this page. It is suggested that you get a full version to retrieve all lost files.  Get CardRecoveryPro with discounted price now!