You may be looking for a way to restore files from your damaged or corrupted memory card when you find this article. Improper use of memory card may result in deleted, damaged or corrupted memory card. Since many users have relied on the cards to store the photos and videos, these photos and videos are precious memory for them. If the card is corrupted, all of the precious record of memory will go. Many computer users have asked me, is there a way to save these photos and videos?
The answer is of course positive. With the fast development of technique in computer nowadays, it is no longer impossible to retrieve these data. Although travelling back to before is still a dream, getting back data deleted from a memory card is not a dream anymore.
However, to recover photos from a bad memory card, there is no manual way. You will need a professional recovery tool, also called an undeleting tool to recover the files for you.
Step1. Connect your SD card to your PC. Run Cardrecoverypro, and on the main interface click [Start Scan] button.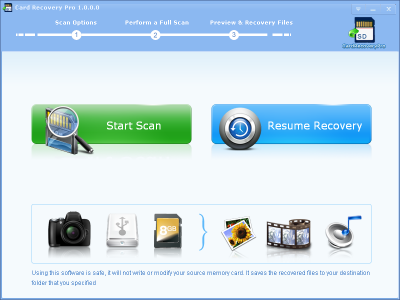 Step2. Select a drive that the lost files has ever been stored, camera brand, and choose a file type: [Photo]/[Movies/Video]/ [Sounds/Audio]. Specify the destination folder, and click [Next].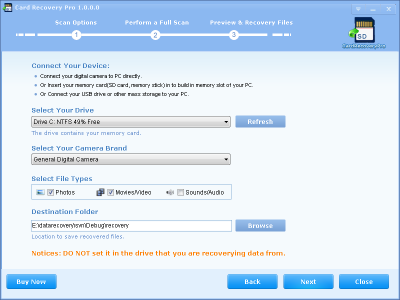 Step3. The scanning process will commence. After scanning, you will see thumbnails of photos found. You can either recover all or selected photos by ticking the small check box under each photo or [Select All] option. Then click [Recover] button.