According to a detail survey, an increasing number of people encountered data loss. In other words, it's very easy for people to deleted photos from sd card. And Lionsea Company seizes this opportunity and offers suggestions in recovering photos from sd card.
CardRecoveryPro is a well-known recovery tool of Lionsea Company. This software is specialized in recovering photos from sd card, undeleting pictures from memory card and rescuing lost files from digital device.
When people come across files corruption, they should not store anything in the memory card. The most useful and safe way is to use CardRecoveryPro to do a complete scan.
Tips about how to recover photos from sd card
STEP One Download CardRecoveryPro & Install it for free.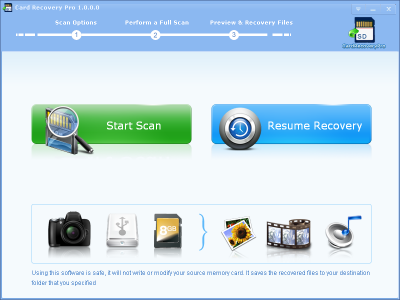 STEP Two: Run CardRecoveryPro. Click [Start Scan], specify the drive letter, file type and destination location. Then click [Next] to start the scan.
STEP Three: When the scan is finished, select the pictures you want and click [Recover] button to restore the files.
About LionSea
LionSea Software Co., Ltd is a modern enterprise integrating science and technology, industry and trade. Our top notch technical team is composed of excellent technologists, designers, programmers and testers. Our management team brings extensive experience in business, management and software development to our enterprise. We adhere to the principle:" User First, Product Excellent, Brave in Innovation and Never Stop Improving".